The mansion Vollenhof was built in the second quarter of the nineteenth century, in neoclassicist style, by the mayor of the city of Kampen, Frans Lemker. The white house with the blinds aims for modest grandeur from the front, but has been dubbed  'the flat house', being just one room deep. Mayor Lemker remained unmarried until old age,  ending a long family line of magistrates or 'regenten' in Kampen. The interior of the house dates from the early 20th century.
The carriage house and other buildings on the estate are recognized by the red-yellow colored shutters. These are the coat colors of Van Riemsdijk and Van Heeckeren, two of our ancestral families that have lived in the province of Gelderland since the Middle Ages.
On the side of the coach house, the rig room also used to house the coach driver. We think.  Through hatches in the attic floor the hay was thrown down into the horses' hay racks. Behind the large doors of the coach house is now a workshop. The former stables and attic were turned into a private home.
Outside the canal is the farmhouse, built in early 1700's,  with a 'clog shed' enclosure for the entrance. Some things have changed since the farmer Wichert Kragt milked his cows and stacked the mik buses in the yard, but the hay attic is still in use and the calf stable still has its old stove and chimney for cooking the cattle feed.
The farm was voted most beautiful farmhouse of Gelderland'after its transformation into a multi-purpose facility for  daytime healthcare, featuring bed and breakfust, meeting rooms. It produces pumpkins and delicious fruit jams.
Across the road you will spot the former gardener's house. This picturesque cottage was built in the 1920s, still with old-fashioned cupboard beds. In the little cottage, two families used to live!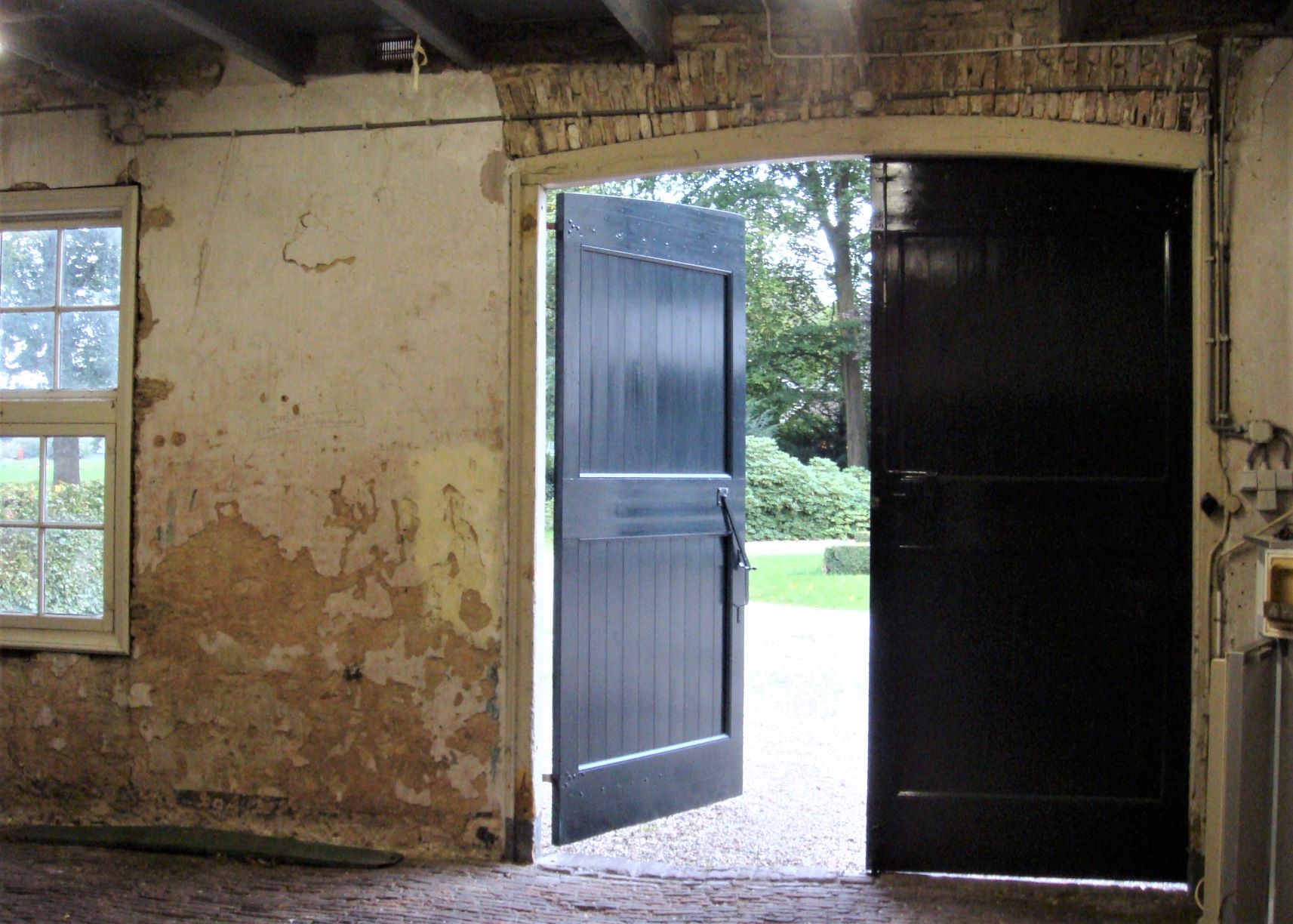 Inside the coach house looking out
Check availability